For grinding bauxite ore powder, which manufacturer is the best for bauxite grinding mill? Among the many manufacturers, Guilin Hongcheng is the most popular and favored manufacturer of production equipment. Hongcheng's new Raymond mill equipment is a professional mill equipment for grinding 80-400 mesh powder. According to customer grinding needs, we can provide more scientific and accurate equipment quotation information. You are welcome to come to the factory for negotiation and inspection at any time.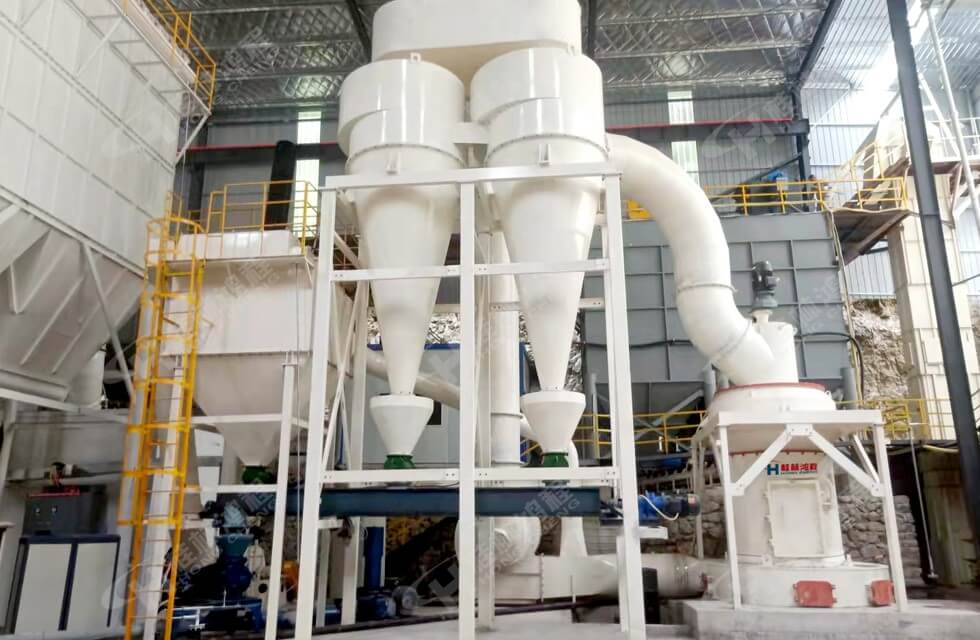 Bauxite production line, 200 mesh Raymond mill equipment case site, welcome to leave a message or consult [email protected]
1. Detailed introduction of Raymond mill equipment for grinding bauxite ore
The new type of raymond mill equipment is a special equipment for grinding bauxite, marble, limestone, barite, dolomite and other ores, and the fineness of the finished products can be between 80-400 mesh. This equipment is a new type of Raymond mill equipment based on the traditional grinding mill. It adopts a plum blossom frame and a vertical grinding roller device. The structure is more advanced and reasonable, and the machine equipment has less vibration and lower noise. The operation is more stable, and you are welcome to visit the factory at any time for more details.
(1). Learn about the technical advantages and characteristics of Raymond mill
Guilin Hongcheng New Environmental Protection Mill-HC Vertical Pendulum Mill
[Production capacity]: 1-25t/h
[Finished particle size]: 22-180μm
[Scope of application]: The pulverizer covers a number of patented technologies and is a technological innovation based on the R-type pulverizer. It is widely used in electric power, metallurgy, cement, chemicals, building materials, coatings, paper, rubber, medicine , food and other production and living areas.
[Performance advantage]: The pulverizer is a replacement equipment for traditional pulverizers. It has a wide range of uses, simple operation, convenient maintenance, stable performance and high cost performance. The output is 30%-40% higher than that of the traditional Raymond mill. It is an economical and practical milling equipment.
[Applicable materials]: High-yield and efficient grinding ability for various non-metallic minerals with Mohs hardness below 7 and humidity within 6%, such as talc, calcite, calcium carbonate, dolomite, potassium feldspar, bentonite , kaolin, graphite, carbon, fluorite, brucite and other grinding effects are good.
(2). Is the bauxite Raymond mill expensive?
If you want to know the equipment quotation, you need to first understand what the equipment selection scheme of Raymond mill is, and then you can obtain detailed equipment quotation details according to such requirements. Guilin Hongcheng is an experienced high-tech enterprise. Guilin Hongcheng customizes the milling production line solution that meets the production requirements for customers based on each customer's needs, and matches customers with more reasonable equipment quotations. Therefore, if you want to Know how much the equipment quotation is, and welcome customers and friends to visit the factory at any time to obtain the selection plan and equipment quotation.
2. Hongcheng has a better reputation
The manufacturer Guilin Hongcheng is a professional machinery and equipment manufacturing enterprise, which has always been favored and welcomed by the market and new and old customers and friends. Guilin Hongcheng has a good market reputation and rich experience in machining and manufacturing. Many new and old customers and friends have decided to cooperate with large manufacturers to create greater market value. Hongcheng is grateful for the favor and support of customers and friends, and will continue to struggle, constantly focus on market demand, and develop more sophisticated mill equipment to create greater value for customers and friends.
For grinding bauxite ore powder, you are always welcome to come to the factory for inspection and understanding. The whole set of grinding design scheme of bauxite production line provided by Guilin Hongcheng is more scientific, more efficient in powder production, higher in production capacity, and the equipment quotation is reasonable, which is favored by customers and friends. The new Raymond mill equipment helps bauxite Mineral powder mill 80-400 mesh powder, you are welcome to visit the factory at any time.