There are many kinds of dolomite milling machine with an output of 10 tons per hour in the market, such as Raymond mill, vertical mill, and superfine vertical mill. However, if you want to produce 10 tons of dolomite milling equipment per hour, as a professional mill manufacturer, Guilin Hongcheng recommends the use of HC pendulum Raymond mill production line. HC Pendulum Raymond Mill is innovatively developed on the basis of traditional mills. It is an advanced large-scale powder processing equipment with large production capacity, high cost performance, stable operation and convenient maintenance. The equipment is highly systematic and can form an independent and complete production system, including crushing, conveying, milling, finished product collection, storage and packaging, etc. The fineness of the finished product can be adjusted between 80-400 mesh.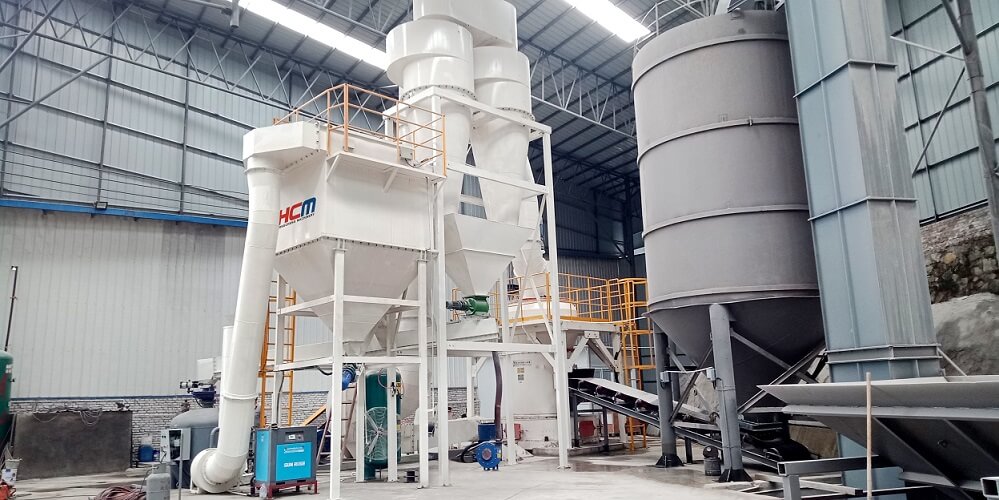 Dolomite HC Pendulum Raymond Mill Case Site, welcome to leave a message or consult [email protected]
1. Know what is dolomite?
Dolomite is a carbonate mineral, including iron dolomite and manganese dolomite. Its crystal structure is like calcite, often rhombohedral. It will slowly foam when it encounters cold dilute hydrochloric acid. Some dolomite emits orange-red light under cathode ray irradiation. Dolomite is the main mineral component of dolomite and dolomitic limestone. Dolomite can be used in building materials, ceramics, glass and refractory materials, chemical industry, agriculture, environmental protection, energy saving and other fields. It is mainly used as a flux for basic refractories and blast furnace ironmaking; for the production of calcium magnesium phosphate fertilizer and for the preparation of magnesium sulfate; and as an ingredient for the production of glass and ceramics.

Various quality dolomite series products: dolomite ore, dolomite sand 6-10 mesh, 10-20 mesh, 20-40 mesh, 40-80 mesh, 80-120 mesh, dolomite powder 10 mesh pass, dolomite super Fine powder 140 mesh, 325 mesh, 600 mesh, 1000 mesh, 1600 mesh.

2. Understand the advantages and characteristics of dolomite milling equipment Raymond mill?
There are many types of Raymond mills for dolomite milling equipment, but Guilin Hongcheng still recommends you to use HC1700 Raymond mills for the production of 10 tons of dolomite powder per hour. The HC series vertical pendulum mill is innovatively upgraded on the basis of the traditional mill, and has a number of independent research and development patented technologies. Among them, the technical indicators of the HC1700 vertical pendulum mill have been greatly improved compared with the R-type mill, and it is a high-yield and efficient energy-saving mill. This equipment can process more than 200 kinds of materials, and the finished product fineness is 80-400 mesh. The output of HC series Raymond mill can reach 1-55 tons per hour, and the appropriate model can be selected according to the fineness and output requirements of different materials processed.

Guilin Hongcheng is a benchmark enterprise in the field of mining milling equipment. The ore mills Raymond mills and vertical mills produced by Guilin Hongcheng are rich in variety, excellent in quality, sufficient in parts supply, high in production and efficiency, energy-saving and environmentally friendly. For different milling customers, we can provide milling equipment of various specifications and models with output ranging from 1 ton to 700 tons. Guilin Hongcheng factory direct sales, no middlemen agents, customers can rest assured to consult, one-stop service in pre-sales, in-sales and after-sales, so that you have no worries about the future.To learn more about dolomite grinding equipment, welcome to leave a message for consultation.