In recent years, the requirements of the green environmental protection powder making industry have become more and more stringent, and Raymond mills have been upgraded again and again. Guilin Hongcheng introduced advanced technology and independently developed a new type of high-efficiency Raymond mill HC pendulum Raymond mill. The machine series has become the mainstream equipment in the market, so why it can replace the traditional Raymond mill, let's take a look at it together.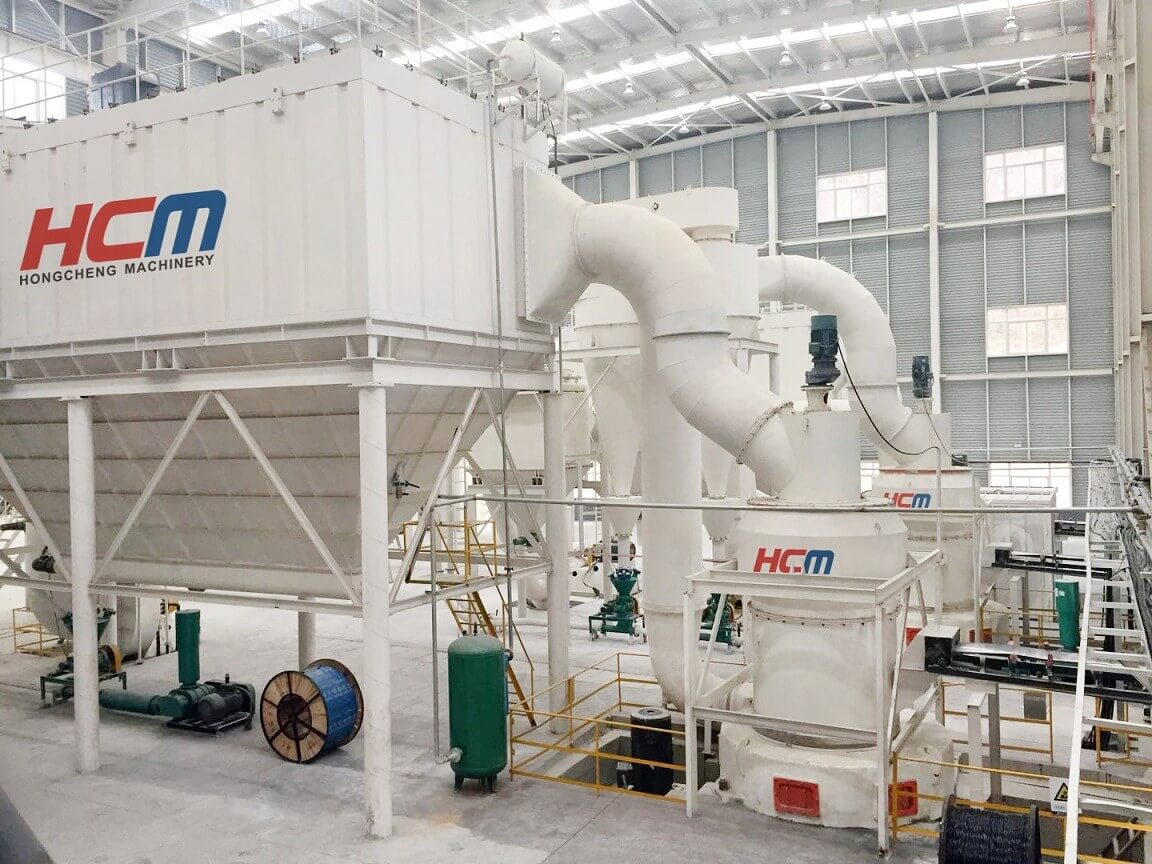 new high-efficiency Raymond mill, welcome to leave a message or consult [email protected]
Guilin Hongcheng HC pendulum Raymond mill is an advanced high-efficiency Raymond mill, which is innovatively developed on the basis of traditional mills. It is an advanced large-scale powder processing equipment with large production capacity, high cost performance, stable operation and convenient maintenance. The equipment is highly systematic and can form an independent and complete production system, including crushing, conveying, milling, finished product collection, storage and packaging, etc. The fineness of the finished product can be adjusted between 80-400 mesh. Widely used in large-scale production of non-metallic ore.
Advantages of Hongcheng's new high-efficiency Raymond mill
1. HC ultra-large pendulum mill is a large-scale, efficient and environmentally friendly milling equipment independently developed by Hongcheng based on the development trend of the industry. This product has a number of invention patent technologies, and is widely used in large-scale powder processing fields such as power plant desulfurization and manganese minerals with its excellent pulverization technology and processing technology. It leads the technological revolution of pendulum mills in terms of production capacity and unit energy consumption.
2. HC Pendulum Raymond Mill is a new type of high-efficiency Raymond Mill. It has rich and colorful product types, advanced and reasonable structure, mature milling process, large production capacity and high cost performance. It has won many national patents and its milling process is at the leading level. under the same power, the output of this equipment is 40% higher than that of traditional Raymond mill and 30% higher than that of ball mill. It is an advanced equipment that effectively expands the application field of pendulum mill and the demand for large-scale production.
3. Guilin Hongcheng has successfully developed the HC3000 Pendulum Raymond Mill, which can produce more than 55 tons per hour. It is currently the largest new high-efficiency Raymond Mill in the world. The power of the host machine is 800kW, the power of the classifier is 132kW, and the power of the fan is 900kW. HC3000 Pendulum Raymond Mill has 4 grinding rollers with a size of 8635MM. It is a grinding equipment that can effectively meet the needs of high-volume production and is very popular in the market.
4. The traditional Raymond mill is far inferior to the new high-efficiency Raymond mill in terms of output, environmental protection, operation and maintenance costs. The upgraded version of the new high-efficiency Raymond mill is refined by Guilin Hongcheng after painstaking research in response to the development needs of the field of non-metallic ore grinding preparation. The product has a large crushing ratio, high energy utilization rate, low wear, compact structure, long service life, and low comprehensive investment cost.
The new high-efficiency Raymond mill HC pendulum Raymond mill is a substitute for the traditional Raymond mill. This product keeps up with the development needs of the times, with more sophisticated technology, simpler operation, lower maintenance cost, more wear-resistant, and higher output. According to the fineness of different materials, output requirements, installation environment and other requirements, the design scheme can be selected, so that scientific and reasonable quotations can be made, and a suitable new high-efficiency Raymond mill model can be configured. Don't let customers take detours, don't waste customers' time and money. Welcome to leave a message to consult Guilin Hongcheng, a professional mill manufacturer.