Under the background of the development of economic super-scale and refinement, ultra-fine graphite powder has become a high value-added downstream product in the graphite industry due to its superior lubricity and electrical conductivity, showing good market application value. The ideal equipment for ultra-fine graphite powder, the ultrafine grinding mill also ushered in a rare development opportunity.
The use of graphite powder
(1) Graphite powder can be used as a mold release lubricant in the production of catalysts in the fertilizer industry.
(2) Graphite powder has the characteristics of high temperature resistance and high lubricity, and can be used as high temperature resistant lubricant base material and corrosion resistant lubricant base material.
(3) Graphite powder can be used as powder metallurgy release agent and metal alloy raw material, lubricant in cable production.
(4) Graphite powder is used to make carbon film resistors, conductive dry molds and to formulate conductive coatings.
(5) Graphite powder is used as filler or performance improver for rubber, plastic and various composite materials to improve the wear resistance, compression resistance or conductivity of materials.
Ultrafine graphite powder is a high value-added graphite product obtained by ultrafine grinding of ordinary graphite, and the particle size range is usually between 1250 mesh and 2500 mesh. In the fields of lubrication, conductivity and emerging new energy electrode materials, ultra-fine graphite powder has played a very important role and has become a new investment choice for many enterprises.
As a big brand mill manufacturer, Guilin Hongcheng has always been committed to creating greater value for customers with high-quality products and services. As one of Hongcheng's star products, ultra-fine mill are also an important part of Hongcheng's strong scientific research and production strength.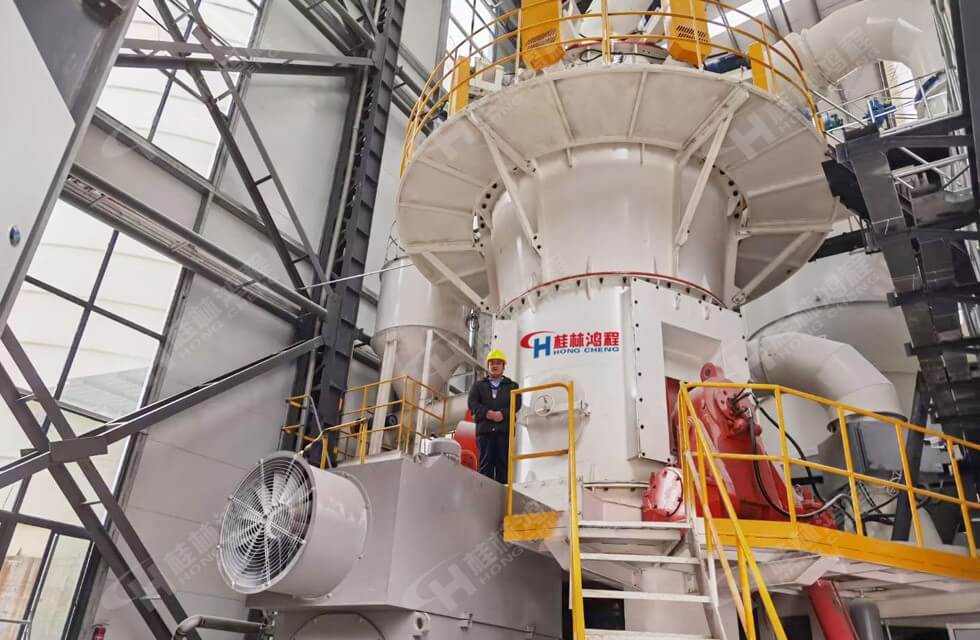 Ultrafine vertical graphite mill case site, welcome to leave a message or consult [email protected]
Ultrafine Vertical Graphite Grinding Mill
grinding disc diameter: 1000-2400mm
raw material moisture: ≤5%
Product output: 3-40t/h
Product fineness: 0-45μm with secondary classification can reach 5μm
Application scope: The mill can be widely used in metallurgy, chemical industry, power plant desulfurization, non-metallic ores pulverizing, pulverized coal preparation, rubber, paint, plastic, pigment, ink, building materials, medicine, food and other fields. The effect is remarkable and very popular.
Application materials: For non-metallic minerals such as calcium carbonate, barite, calcite, gypsum, slag powder, manganese ore, coal, etc., it can be processed by ultra-fine grinding, and the product fineness adjustment is convenient and the operation is simple.
grinding characteristics: The mill has high output and high efficiency, environmental protection and energy saving, high classification efficiency, wide range of finished product fineness, high degree of automation, high reliability, convenient maintenance and low operating cost. It is the equipment for large-scale production of ultrafine powder.
Guilin Hongcheng Ultrafine mill has maintained a long-term competitive advantage in the fierce market competition by virtue of its superior performance, ideal grinding mill price and perfect professional services. Customers with ultra-fine graphite powder investment projects are welcome to contact Guilin Hongcheng. We will arrange professional and technical personnel to provide one-to-one service throughout the whole process to configure a more reasonable graphite powder ultra-fine grinding machine solution for you to help your ultra-fine graphite powder investment project.