In the golden autumn, thousands of merchants gather together. From October 15th to 19th, 2023, the 134th China Import and Export Fair (Canton Fair) will be held at the Guangzhou Pazhou Convention and Exhibition Center.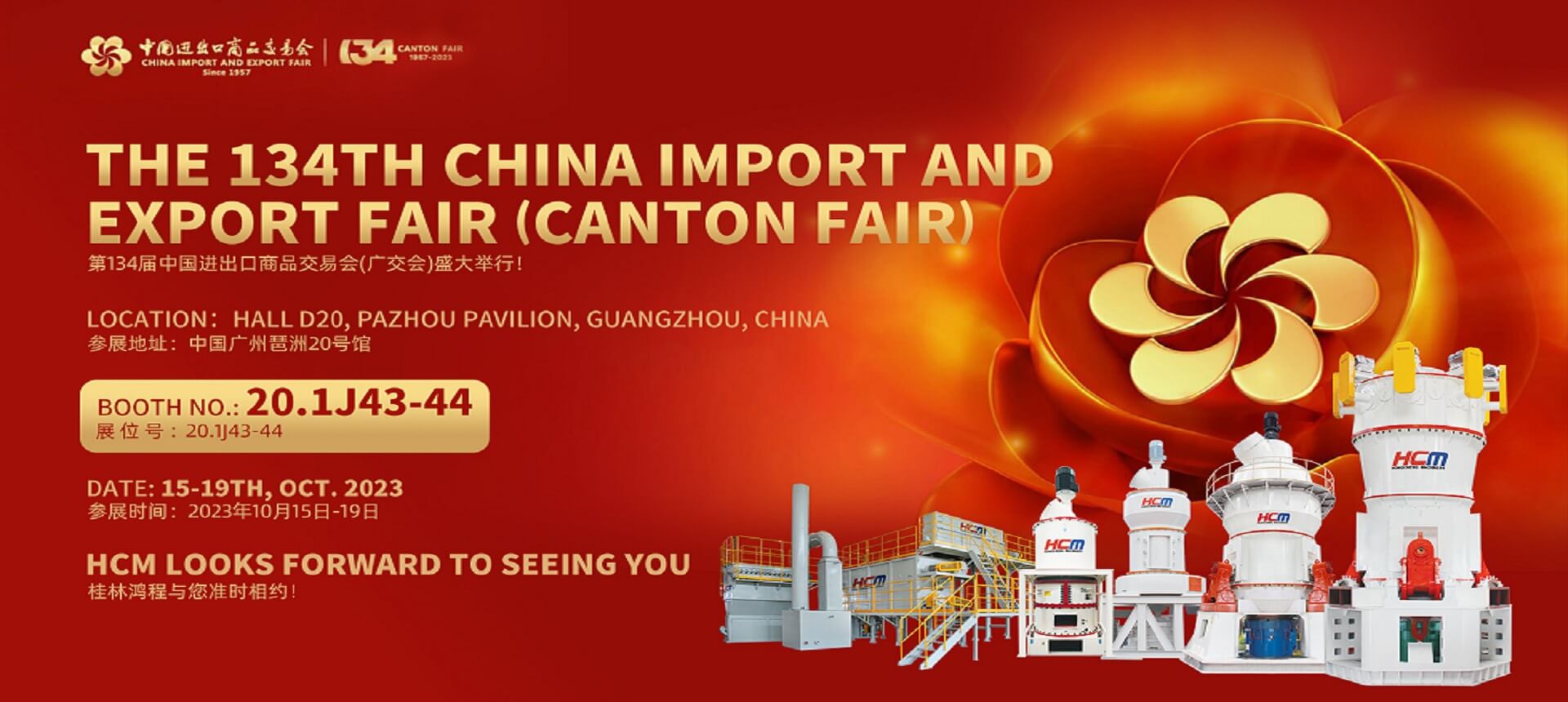 HCM Grinding Mill, welcome to leave a message or consult [email protected]
The Canton Fair is jointly sponsored by the Ministry of Commerce and the People's Government of Guangdong Province and hosted by the China Foreign Trade Center. It is China's comprehensive international trade event with the longest history, the largest scale, the most comprehensive product categories, the largest number of buyers present, the widest distribution in countries and regions, the best transaction results, and the best reputation. It is known as "China's No. 1 An exhibition".
This exhibition has a total of 34,000 offline exhibitors, 35,000 online exhibitors, more than 220 countries and regions, and more than 200,000 purchasers. It will effectively promote trade exchanges and friendly exchanges between China and countries around the world. We sincerely invite new and old customers at home and abroad to visit our booth, have in-depth exchanges and seek common development.
Exhibition address: No. 380, Yuejiang Middle Road, Haizhu District, Guangzhou City, Guangdong Province
Exhibition time: October 15-19, 2023
BOOTHNO.: 20.1J43-44
Guilin Hongcheng Mining Equipment Manufacturing Co., Ltd. is a powerful enterprise in the powder processing equipment industry. It has the world's largest complete set of grinding equipment R&D and manufacturing bases and can complete professional R&D and manufacturing of various powder equipment, complete sets of powdering production lines, and lime deep processing production lines. etc., such as pendulum mill, vertical mill, ring roller mill, ultra-fine vertical mill and calcium hydroxide production line, etc. It also has a large casting production base.
At present, the factory is mainly composed of four production and research bases. Among them, the Baoshan Industrial Park project under construction - a large-scale high-end equipment intelligent manufacturing industrial park covering an area of 1,200 acres, has been successfully put into operation and can achieve a casting workshop production capacity of 45,000 tons. Once completed and put into operation, it will be able to achieve an annual production capacity of 70,000 tons of castings and 3,000 sets of grinding equipment.
Quality Hongcheng Mill, Accelerating Globalization After years of accumulation and precipitation, Hongcheng's international competitiveness continues to increase. The independently developed and produced grinding equipment has a number of patented technologies and has outstanding performance in milling efficiency, environmentally friendly production, brand services, etc. Each aspect has its own unique advantages and characteristics, making it a green and environmentally friendly powder grinding equipment trusted by the powder industry.
Since its development, Hongcheng has become a major domestic powder equipment manufacturing enterprise and export base. Hongcheng grinding mills are exported to more than 20 countries and regions overseas, such as the United States, Mexico, Russia, Australia, Egypt, South Africa, Nigeria, Sudan, Vietnam, Laos, Malaysia, Indonesia, the Philippines, etc., and are internationally influential. The representative brand of high-quality grinding equipment in China.
In this exhibition, Guilin Hongcheng adheres to the original intention of creating value for customers and displays the latest information on equipment such as HC pendulum mill, HCH ring roller mill, HLM vertical mill and HLMX ultra-fine vertical mill for customers at home and abroad. Welcome Dear friends, come to visit and communicate.