The 134th China Import and Export Fair (Canton Fair) is in full swing in Guangzhou. Over the past few days, there has been a lot of traffic outside the exhibition hall, and the venue is bustling with people. Thousands of businessmen have gathered at the Pazhou Complex once again. Guilin Hongcheng grinding mill was exhibited at the exhibition.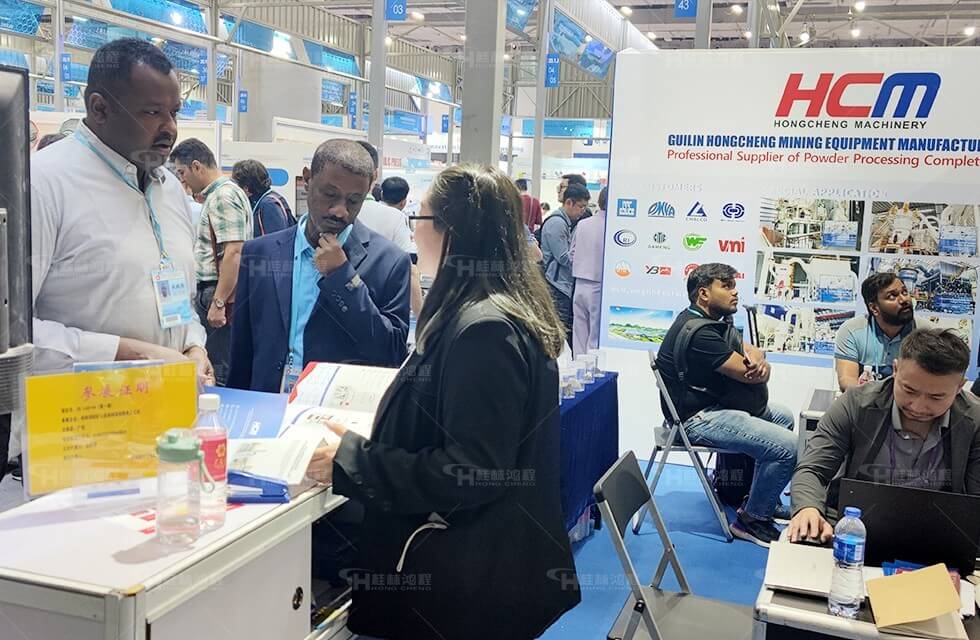 "Old Vietnamese customers went straight to the booth to say hello to us as soon as they arrived at the Canton Fair." Soon after the first day of the event, Hongcheng welcomed many new and old customers. There was a heavy flow of customers in the exhibition area, and many overseas buyers also came here to visit Hongcheng's booth to inquire about Hongcheng's products and discuss their needs. Hongcheng Elite provides enthusiastic service, showing customers the powder ground by Hongcheng equipment, and introducing the uses of the powder in detail to provide customers with customized solutions.
Among the four products displayed by Hongcheng this year, the two products, HC large pendulum mill and HLMX ultra-fine vertical mill, have attracted much attention. The HC3000 model is currently the world's largest Raymond mill. It not only increases production and efficiency, but also has obvious advantages in energy saving and consumption reduction. The ultra-fine vertical mill masters key production technologies such as large-scale, automation and ultra-fine milling, and can meet customer intelligence. Due to the demand for pulverization, refinement and large-scale milling, the high-quality Hongcheng Mill has attracted overseas merchants to gather for consultation.
As the wave of green environmental protection sweeps the world, green and intelligent manufacturing is also one of the key themes that has attracted much attention at the Canton Fair. Hongcheng also brought its core green products vertical mill and ring roller mill to this Canton Fair. The HLM series vertical mill integrates crushing, drying, grinding, grading and conveying. It can achieve no dust spillage and its emissions comply with national environmental assessment standards, providing green and environmentally friendly equipment for the mining industry.
In addition, the HCH series ring roller mill is popular in the calcium carbonate market. It has outstanding advantages in energy saving and consumption reduction, and is favored by overseas customers. Over the years, Hongcheng's complete range of flour milling products has been successfully used in many green projects at home and abroad, helping enterprises to achieve green production, reduce costs and increase efficiency.
In recent years, Hongcheng has continued to implement its globalization strategy, "going out" step by step, constantly expanding business opportunities, and its product exports have increased significantly. Hongcheng is also taking advantage of the Canton Fair to continuously tap market potential and use the power of its brand to promote the steady and long-term development of "Intelligent Manufacturing in China" overseas.