Limestone is widely used, so how to process limestone? What kind of mill can be used to grind 100 mesh limestone powder? Grinding machine manufacturer Guilin Hongcheng provides environmentally friendly grinding equipment for powder processing customers to meet the production needs of different fineness and production capacity. The environment-friendly Raymond mill equipment is high-yielding, energy-saving, noise-reducing and cost-reducing, and it is the exclusive equipment to help process limestone bulk materials into required fineness.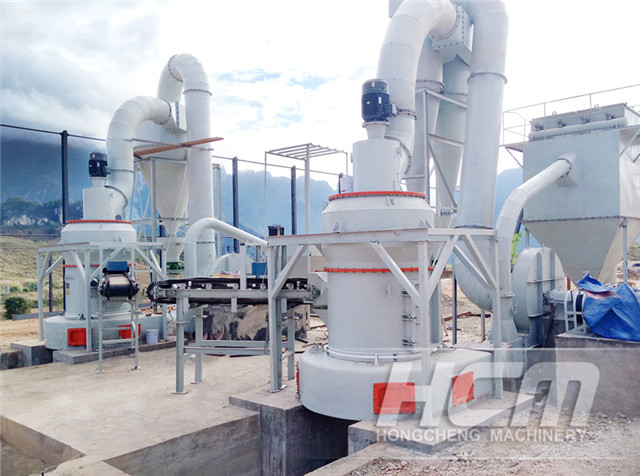 limestone Raymond mill, welcome to leave a message or consult [email protected]
1. Selection of processing equipment for limestone ore
What kind of mill should be selected for the grinding and processing of limestone ore? Guilin Hongcheng Manufacturer is a provider of mill equipment based on the limestone ore powder processing market. Different types of mill equipment are provided for grinding projects with different fineness and production capacity, including Raymond mill, vertical mill, ultrafine mill, ultrafine vertical mill and other equipment. If it is necessary to grind 80-400 mesh powder, then the new Raymond mill equipment is the equipment to increase the production capacity of the project. Let's take a look at the advantages and features of this mill.

2. The advantages and characteristics of the environment-friendly Raymond mill
This mill is a special equipment for assisting non-metallic mine projects. It can be used for grinding a wide range of materials, including marble, barite, dolomite, limestone, talc and other mineral powders. Moreover, compared with the traditional pulverizer, the upgraded equipment of the pulverizer can increase the production by more than 40%, reduce the unit power consumption cost by 30%, the quality of the pulverized powder is ideal, the processing efficiency is higher, and the performance More reliable, intelligent operation fully escorts the project to increase production and reduce noise.

Guilin Hongcheng new environmental protection mill - HC vertical pendulum mill

[Production capacity]: 1-25t/h

[Finish particle size]: 22-180μm

[Scope of application]: This mill covers a number of patented technologies, and is a technical innovation based on the R-type mill. It is widely used in electric power, metallurgy, cement, chemical industry, building materials, coatings, papermaking, rubber, and medicine. , food and other production and living areas.

[Performance advantage]: This mill is a replacement equipment for traditional mills. Wide application, simple operation, convenient maintenance, stable performance, high cost performance, the output is 30%-40% higher than traditional Raymond mill, it is economical and practical milling equipment.

[Applicable materials]: It has high-yield and high-efficiency grinding ability for various non-metallic mineral materials with Mohs hardness below 7 and humidity within 6%, such as talc, calcite, calcium carbonate, dolomite, potassium feldspar, bentonite , Kaolin, graphite, carbon, fluorite, brucite, etc. have good grinding effect.

How is limestone processed? What type of mill equipment can I choose to grind 100 mesh limestone powder? Welcome to learn more about the environmental protection Raymond mill equipment, selection plan and product quotation details of the mill manufacturer Guilin Hongcheng at any time.