What type of bauxite small grinding mill is used? As a manufacturer, Guilin Hongcheng recommends using Raymond mill for processing. The improved Raymond mill produced by Guilin Hongcheng is well received by customers in the market. The HCQ improved mill is technically updated on the basis of the R series pendulum mill. The product is reliable in operation, convenient in maintenance, large in production capacity, high in grading accuracy, large in conveying capacity, and more reasonable in configuration. It can be adjusted arbitrarily between 80-400 mesh. It is an advanced equipment for high-efficiency pulverization of non-metallic ore.
The main component of bauxite is alumina, which is hydrated alumina containing impurities and is an earthy mineral. White or off-white, brownish-yellow or light red due to iron content. Density 3.45g/cm3, hardness 1-3, opaque, brittle, extremely difficult to melt, insoluble in water, soluble in sulfuric acid and sodium hydroxide solution. It is mainly used for aluminum smelting and refractory materials. Guilin Hongcheng has specialized in the production of mills for 30 years, and has developed many types of professional mills, including small, medium and large mills, which can meet the different needs of customers.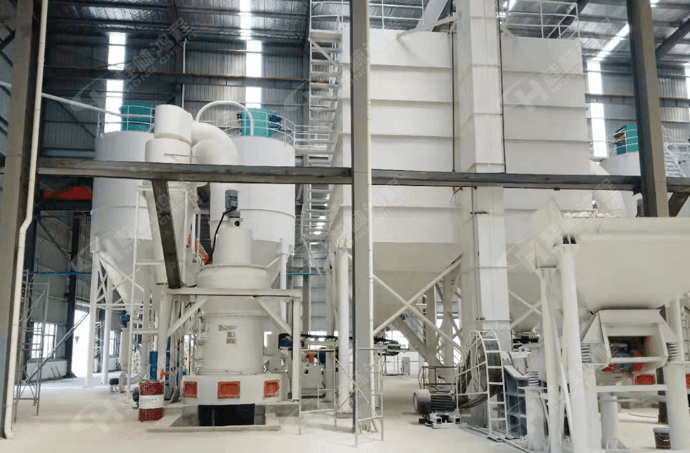 Bauxite small grinding mill case site, welcome to leave a message or consult [email protected]
Guilin Hongcheng HCQ improved Raymond mill is based on the market development trend and innovates and upgrades on the basis of traditional mills. It is mainly composed of main engine, feeder, classifier, blower, pipeline device, storage hopper, electric control system, collection system, etc. It has high yield for various non-metallic minerals with Mohs hardness below 7 and humidity within 6%. Efficient milling characteristics, it is the preferred milling equipment for grinding bauxite. For the small output demand of grinding alum, choosing this improved Raymond mill is not only economical, but also has a good grinding effect.
Guilin Hongcheng's HCQ improved Raymond mill has good effect, low energy consumption, and less dust. It can meet the fineness processing of 80-400 mesh, and the hourly output can reach 1-22 tons. A very popular small milling equipment.