The current market demand for non-mineral powder is increasingly strong, and the average annual growth rate of heavy calcium consumption is nearly 9.5%. It is predicted that the annual demand for non-metallic ore powder will continue to grow at a high rate in the next 10 years Rate. While pursuing stable product quality and uniform particle size distribution, the market also has urgent requirements for energy saving and consumption reduction in the processing of non-metallic mineral powder products, and higher requirements are also placed on production equipment. Guilin Hongcheng also kept up with the pace of technology and developed a new type of ultra-fine vertical mill equipment for non-metallic minerals with a price that is more suitable for the market. The HLMX series non-metallic ore ultra-fine vertical mill equipment is one of the best.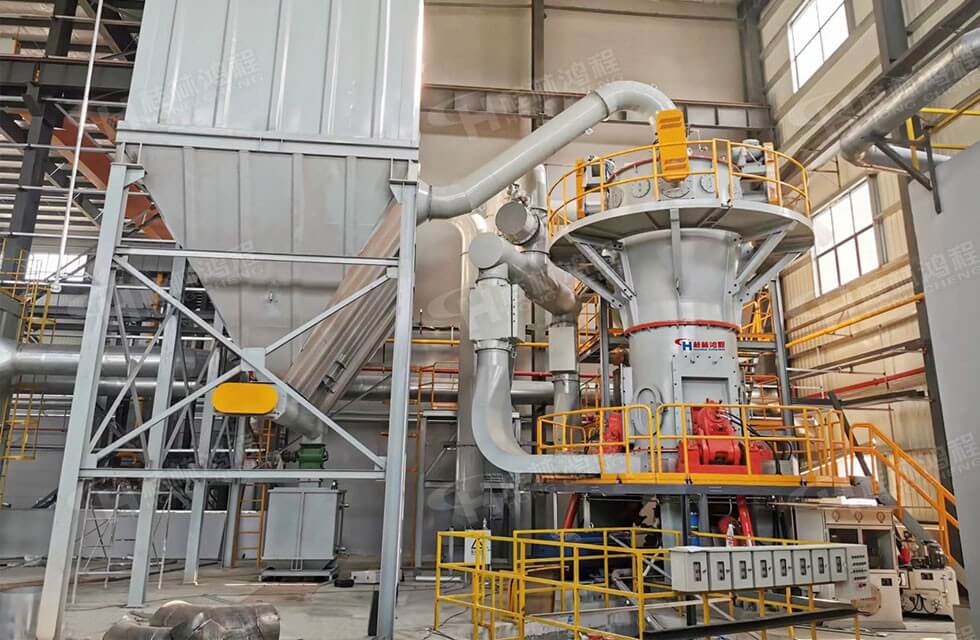 hlmx ultrafine vertical mill, welcome to leave a message or consult [email protected]
my country's large-scale and industrialized ultrafine powder processing and ultrafine crushing and fine grading equipment began after the reform and opening up. So far, my country's ultrafine crushing technology and equipment have experienced from the introduction of foreign technology, equipment and domestic imitation to intellectual property rights Or the evolution of invention patents. The comprehensive performance of its equipment, such as processing capacity, energy consumption per unit product, wear resistance, process matching and automatic control, has been significantly improved, and the gap with foreign advanced technology and comprehensive performance of equipment has gradually narrowed, and there is even a tendency to catch up. According to the excellent performance of the vertical mill in the cement industry, it becomes one of the ideal non-metallic ore processing equipment. It can well meet the requirements of product processing such as reliable operation, large output, stable product quality, and significant energy saving. However, the heavy calcium carbonate (referred to as heavy calcium) products produced by ordinary vertical mills are all below 600 mesh (d7> 23μm), which cannot meet the market's large-scale production demand for 1250 mesh (d=10um) ultrafine powder.
On the basis of the traditional coarse powder vertical mill, Guilin Hongcheng has promoted the eddy current ultra-fine classification system technology to the vertical mill industry, organically combined it with the vertical mill grinding system technology, and successfully developed non-metallic ore ultra-fine vertical mill equipment. The non-metallic mineral ultra-fine vertical mill equipment production system can process 325-2500 mesh ultra-fine powder, and can produce products with higher particle size with lower energy consumption. Compared with ultra-fine vertical mills in the same industry, Guilin Hongcheng HLMX non-metallic mine ultra-fine vertical mills have the following advantages: lower cut point of classifier; smaller median diameter; higher fine powder content; higher output; Lower energy consumption; the building-station structure is adopted, and the installed area is smaller, which saves 40% compared with the installed area of equipment in the same industry. The whole series adopts PLC control, and the sampling sensors involve temperature, speed, air pressure, hydraulic pressure, vibration, amplitude, etc., and the reliability, integration and ease of operation are guaranteed.
Another advantage of non-metallic mineral ultrafine vertical mill equipment is that it can directly modify and activate the powder during production. Through special process design, strict quantitative addition of chemical additives and control of the temperature in the mill, repeated tests on non-metallic ore ultra-fine vertical mill equipment, the chemical additives are fully coated on the surface of inorganic non-metallic powders. The direct addition of chemical additives is used to achieve surface modification at one time, without the need to purchase additional special modification equipment, which greatly simplifies the process and reduces investment costs. The functional powder produced by this method is widely used in the artificial marble market of ultrafine heavy calcium.
At present, HLMX non-metallic ore ultrafine vertical mill equipment has been widely used in heavy calcium ultrafine powder processing technology. In addition to the application in the processing of calcium carbonate powder such as marble and calcite, HLMX non-metallic ore ultra-fine vertical mill equipment is used in graphite, carbon, coal chemical industry, attapulgite, barite, graphite, steel slag, quartz and other non-metal ultra-fine powder It has also been successfully applied in solid body processing technology, providing good equipment support for the refined and high-value application of non-metallic mineral deep processing. If you have relevant needs, please leave us a message to learn more about the equipment.