Blast furnace slag is the waste slag produced when smelting pig iron, and it is also a kind of waste slag produced in a large amount in the metallurgical industry. The main component of blast furnace slag is silicate, and its content is stable, and its hydraulic activity and hydraulic coefficient are relatively high. It should be recycled to produce high value-added products, rather than mass accumulation or landfill. The blast furnace slag has a variety of uses after grinding. The following are introduced for you:
1. The use of blast furnace slag after grinding
(1). Used for cement mixture
Blast furnace slag has high potential activity. After grinding the blast furnace slag, under the action of hydration products of cement clinker minerals, lime, gypsum and other activators, it interacts with water to generate hydration products such as hydrated silicates, which are hard and show high strength, High density, good heat resistance and other characteristics. Compared with cement clinker, it has great advantages. First of all, blast furnace slag has relatively stable chemical composition compared with fly ash and pozzolan. In addition, it also has very low hydration heat, high sulfur resistance and acid resistance, Very good workability, high strength limit, etc. These properties are beneficial for building bridges, dams, highways, seaports, and more.
(2). For concrete
Blast furnace slag powder can be obtained by grinding blast furnace slag. Blast furnace slag powder is a fine powder whose specific surface area reaches a certain level after blast furnace slag is dried, crushed, ground and screened. Generally, when the specific surface area of blast furnace slag micropowder exceeds 400m2/kg, it begins to have better activity and enhancement. Adding blast furnace slag micropowder as an admixture in concrete can improve the characteristics of concrete: improve the strength, impermeability, durability and corrosion of concrete, which can be used for the construction of large buildings.
(3). Used for silicon fertilizer
Silicon fertilizer is a mineral fertilizer mainly containing silicon oxide and calcium oxide, and it is a nutrient element for many crops. The blast furnace slag contains a large amount of silicon oxide and calcium oxide. When the blast furnace slag grinding reaches 80-100 mesh, an appropriate amount of silicon activator is added, and then the silicon fertilizer can be obtained after stirring and mixing. Due to the photosynthesis of crops, silicon fertilizer can improve the quality of crops and increase the yield.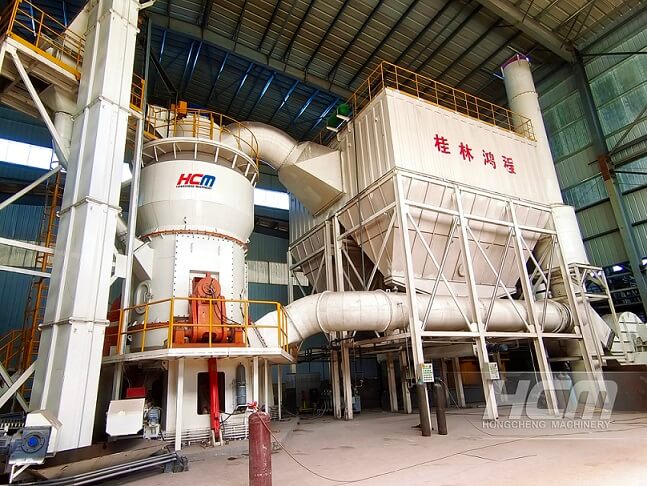 blast furnace slag vertical grinding mill, welcome to leave a message or consult [email protected]
2. Guilin Hongcheng blast furnace slag mill: HLM series vertical mill
[Fineness]: 22-180μm
[Production]: 1-200t/h

[Application fields]: Building materials, chemical industry, metallurgy, coatings, papermaking, rubber, medicine, food and other fields.

[Applicable materials]: Cement raw meal, clinker, lime powder for desulfurization in power plants, slag powder, manganese ore, gypsum, coal, barite, calcite, etc.

As an experienced mining machinery equipment manufacturer, Guilin Hongcheng specializes in the production of various types of grinding equipment. If you want to know more about blast furnace slag grinding equipment, please contact us online.