Phosphate ore grinding is widely used. Phosphate ore is a phosphorus-rich phosphate-hydrochloric acid mineral, mainly represented by apatite, which is an important support for the phosphorus chemical industry. Choosing a high-efficiency, intelligent and energy-saving phosphate rock pulverizer can greatly enhance the market competitiveness of phosphate rock powder and create greater value.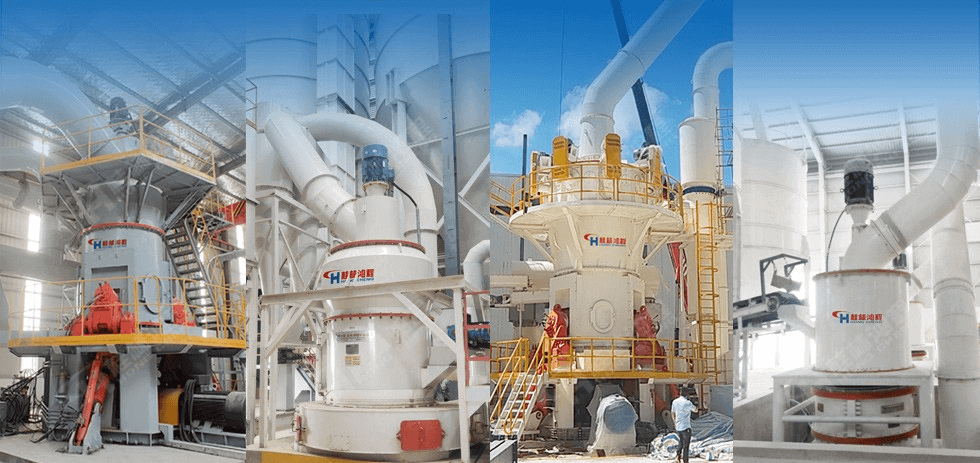 Phosphate ore grinding production line process, welcome to leave a message or consult [email protected]
The optional models of the phosphate rock grinding production line include phosphate rock Raymond mill, phosphate rock vertical mill, and phosphate rock ultrafine grinding. Each series of pulverizers has different models, and suitable phosphate rock production lines can be configured for different production capacity requirements.
Phosphate ore grinding production line process
Stage 1: Crushing of raw materials
The phosphate rock bulk material is crushed by the crusher to the fineness (15mm-50mm) that can enter the mill.
Stage 2: Grinding
The crushed phosphate rock material is sent to the storage hopper through the elevator, and then sent to the grinding chamber of the mill evenly and quantitatively through the feeder for grinding.
Stage 3: Grading
The pulverized materials are classified by the classification system, and the unqualified powders are classified by the classifier and then returned to the main engine for re-grinding.
Stage 4: Collection of Finished Products
The powder that meets the fineness enters the dust collector through the pipeline with the air flow for separation and collection, and the collected finished powder is sent to the finished product silo by the conveying device through the discharge port, and then uniformly packed by a powder tanker or an automatic baler.
The process of phosphate rock grinding production line is simple and easy to operate. It can be easily completed by one or two people, saving human and financial resources, and at the same time, it can produce efficient, intelligent, fully automated and scientific production. Guilin Hongcheng has rich production experience and high-tech in the field of grinding mill research and development and manufacturing. Technology application, Hongcheng ore milling machine has advanced technology, stable processing performance, high production efficiency, and reliable quality of finished products. Hongcheng mills are widely used in infrastructure construction, mineral deep processing, solid waste recycling, energy saving and emission reduction, metallurgy, chemical industry and other fields, and have the highest reputation and response in domestic and foreign milling production lines.