Slag is an industrial solid waste, and the grinding slag needs to be used in a mill. Vertical grinding mill manufacturer Hongcheng Mine has produced excellent grinding production lines in the field of industrial solid waste, which has won the favor and praise of our customers. Guilin Hongcheng is a pulverizer manufacturer based in the field of mineral powder processing. It provides a high-yield and efficient slag mill production line selection plan, formulates reasonable prices, and helps slag projects turn harm into profit and create value.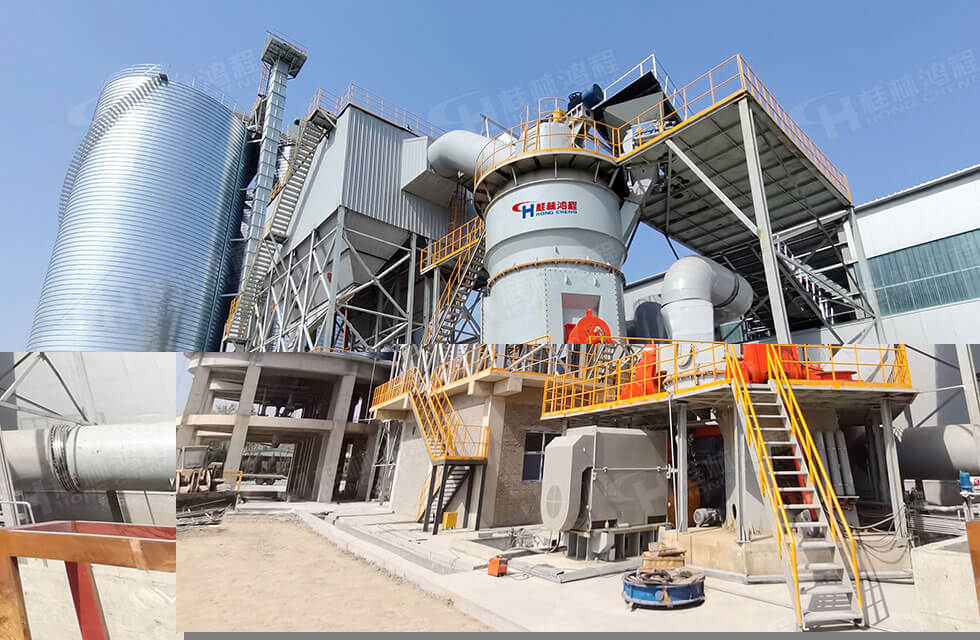 How much is the price of slag mill production line, welcome to leave a message or consult [email protected]
Can slag be ground into powder? What industries and fields can the milled slag powder be used in? This is a concern of many friends who have just come into contact with this industry. Before grinding, they must first understand important information such as the application value and sales channels after grinding. So what kind of pulverizer is used for grinding slag? What manufacturer can you cooperate with without worry? Come with me to find out.
1. The application of blast furnace slag powder
(1). For cement mixture

Blast furnace slag has high potential activity. After grinding the blast furnace slag, under the action of hydration products of cement clinker minerals, lime, gypsum and other activators, it can react with water to generate hydration products such as hydrated silicates, which are hard and show high strength. High density, good heat resistance and other characteristics. Compared with cement clinker, it has great advantages. First of all, blast furnace slag has relatively stable chemical composition compared with fly ash and pozzolan. Very good workability, high strength limit, etc. These properties are beneficial for building bridges, dams, highways, seaports, and more.

(2). For concrete

Grinding blast furnace slag can obtain blast furnace slag micropowder. Blast furnace slag micropowder is a fine powder whose specific surface area reaches a certain level after blast furnace slag is dried, crushed, ground and screened. Generally, when the specific surface area of blast furnace slag micropowder exceeds 400m2/kg, it begins to have better activity and enhancement. Adding blast furnace slag micropowder as an admixture in concrete can improve the characteristics of concrete: improve the strength, impermeability, durability and corrosion of concrete, which can be used for the construction of large buildings.

(3). Used for silicon fertilizer

Silicon fertilizer is a mineral fertilizer mainly containing silicon oxide and calcium oxide, and it is a nutrient element for many crops. The blast furnace slag contains a large amount of silicon oxide and calcium oxide. When the blast furnace slag grinding reaches 80-100 mesh, an appropriate amount of silicon activator is added, and then the silicon fertilizer can be obtained after stirring and mixing. Due to the photosynthesis of crops, silicon fertilizer can improve the quality of crops and increase the yield.

2. Vertical grinding mill for slag
In the field of industrial solid waste, Hongcheng Mine provides professional vertical pulverizer equipment to help the solid waste market recycling. What are the characteristics of vertical mill? The equipment integrates drying, grinding, grading and conveying, with low comprehensive investment cost, convenient maintenance, long service life of the equipment, small footprint of the whole machine, which is 50% of the ball mill, and can be arranged in the open air. The construction cost is further reduced, and the PLC automatic control system is used, which can realize remote control, is convenient for maintenance, and greatly reduces the labor investment cost.
Guilin Hongcheng Mineral Powder Mill-HLM Vertical Mill
grinding material particles: 0-50mm
Abrasive Diameter: 800-5600mm
Moisture of grinding material: <15%
Product moisture:≤1-6%
Production capacity: 5-700t/h
grinding field: For various non-metallic mineral materials with Mohs hardness below 7 and humidity within 6%, the mill is widely used in electric power, metallurgy, cement, chemical industry, rubber, paint, ink, food , pharmaceutical and other production fields.
Characteristics: It integrates drying, grinding, grading and conveying, with high grinding efficiency, low power consumption, large feeding particle size, easy adjustment of product fineness, simple equipment process, small footprint, and low noise, small dust, easy use and maintenance, low operating costs, less consumption of wear-resistant materials and so on.
3. Professional customized selection scheme
For different customer needs, Hongcheng Mining provides professional selection scheme design. The grinding fineness, production capacity and installation area required by customers are different, so the required selection scheme is also different. As a manufacturer, Hongcheng Mine takes customer needs as the center, and uses rich experience in program production to customize professional selection and configuration programs for different customers. Therefore, the slag mill production line developed is scientific in price and reasonable in design, which is a boost Projects create value for professional mills.
Grinding slag, vertical grinding mill equipment is excellent grinding equipment, Hongcheng Mine can customize high-yield and efficient slag mill production line based on customer needs, and create value for slag projects with rich experience and professional grinding equipment , Welcome customers and friends who have slag projects to leave a message for consultation.