On April 3, 2023, the Office of Guilin Federation of Industry and Commerce selected the list of "The First Top Ten Outstanding Private Enterprises in Guilin". Guilin Hongcheng's strength is shortlisted!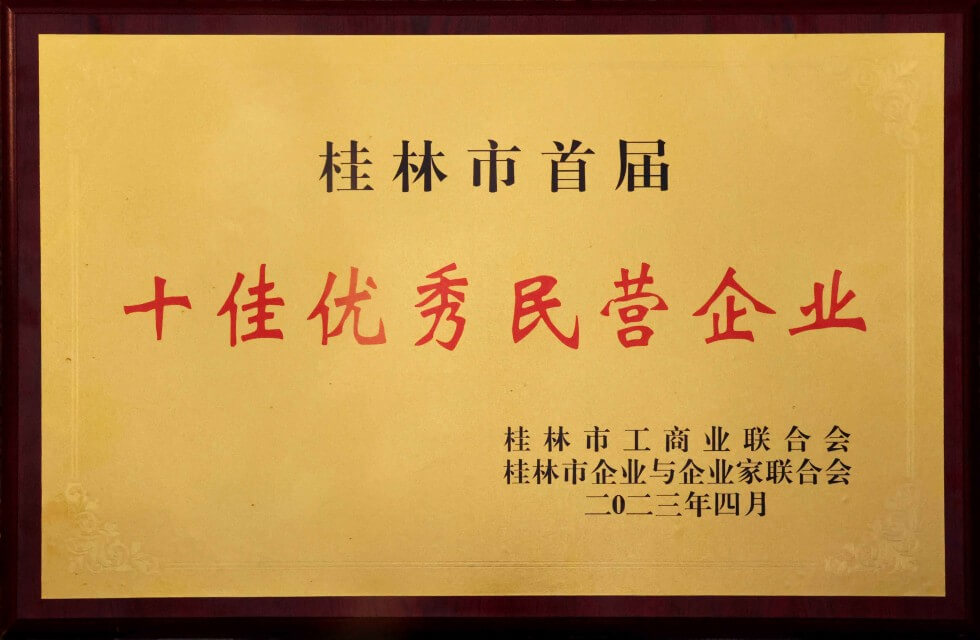 Hongcheng-Top Ten Outstanding Private Enterprises in Guilin, welcome to leave a message or consult [email protected]
The list of "The First Top Ten Outstanding Private Enterprises in Guilin City" is for the purpose of praising the advanced, setting up typical models, and inspiring motivation. It is recommended by relevant units and is produced after comprehensive consideration of the output value, tax payment, comprehensive evaluation, and social contribution of each private enterprise. The commended enterprises have demonstrated the vigor and vitality of private enterprises in Guilin who are not afraid of challenges and overcome difficulties. Guilin Hongcheng adheres to the ore grinding industry, strengthens the machinery manufacturing industry, consciously takes a high-quality development route, and makes positive contributions to the industrial revitalization of Guilin.
Focus on research and development, strong sales, and fine quality
In order to further promote the high-quality development of Hongcheng, Chairman Rong Dongguo made a work line deployment of "emphasizing research and development, strengthening sales, and refining quality", requiring all Hongcheng people to unite and roll up their sleeves to work harder. R & D, sales, and quality point to surface, to create a golden reputation for Hongcheng's strength, and create value for our customers with heart.

Keep the integrity and innovate, serve the country with industry, and strengthen the country with industry
Forge the shield of pattern and sharpen the sword of forge ahead. In order to help Hongcheng's pulverizer take off at a high speed in the vast market, Hongcheng has ingeniously built Baoshan Intelligent Equipment Industrial Park. The new production base and casting platform provide a strong impetus for improving Hongcheng's production capacity, driving the overall development of upstream and downstream industries, promoting the transformation and upgrading of regional manufacturing industries, and stabilizing economic growth.

Do not forget the original intention, innovation, quality, create value for customers
"Creating value for customers" is the original intention of Hongcheng. Hongcheng has been deeply involved in the milling field for more than 30 years. It has always focused on the research and development and production of large-scale milling equipment with high efficiency, energy saving, stability and environmental protection. Simultaneously develop service and income, steadily expand market share, and create a high-quality service brand.

It is an important recognition of Guilin Hongcheng to be shortlisted in the list of "The First Top Ten Outstanding Private Enterprises in Guilin". Next, Guilin Hongcheng will continue to strengthen team building, quality building, and service building, strengthen the sense of responsibility, and help promote Guilin's industrial revitalization and high-quality economic development!