In order to recover the titanium resources in titanium-containing blast furnace slag, the blast furnace slag is subjected to high-temperature reduction and carbonization treatment with a carbonaceous reducing agent in an electric furnace to reduce titanium to titanium carbide (TiC). The carbonized blast furnace slag is called carbonized slag. The water-quenched carbonized slag is obtained after high-pressure water impacts the hot-melt carbonized slag. The water-quenched carbonized slag is ground and used as the main raw material for the next step of low-temperature selective chlorination process. Today I will introduce to you the grinding method of carbonized slag.
The low-temperature selective chlorination process requires a strict particle size range of carbonized slag, with the required particle size range being 0.074mm ~ 0.178mm. Water-quenched carbonized slag has physical properties such as rough and porous surface, light and brittle texture, and easy breakage, which are different from the properties of carbonized slag that is slowly cooled in the air. The ball mill crushing process of carbonized slag slowly cooled in the air is used to grind water-quenched carbonized slag. There are problems such as large loss of steel balls, low grinding efficiency, and the particle size after grinding does not meet the requirements. Therefore, choosing more suitable grinding equipment is the key to controlling the particle size of carbonized slag.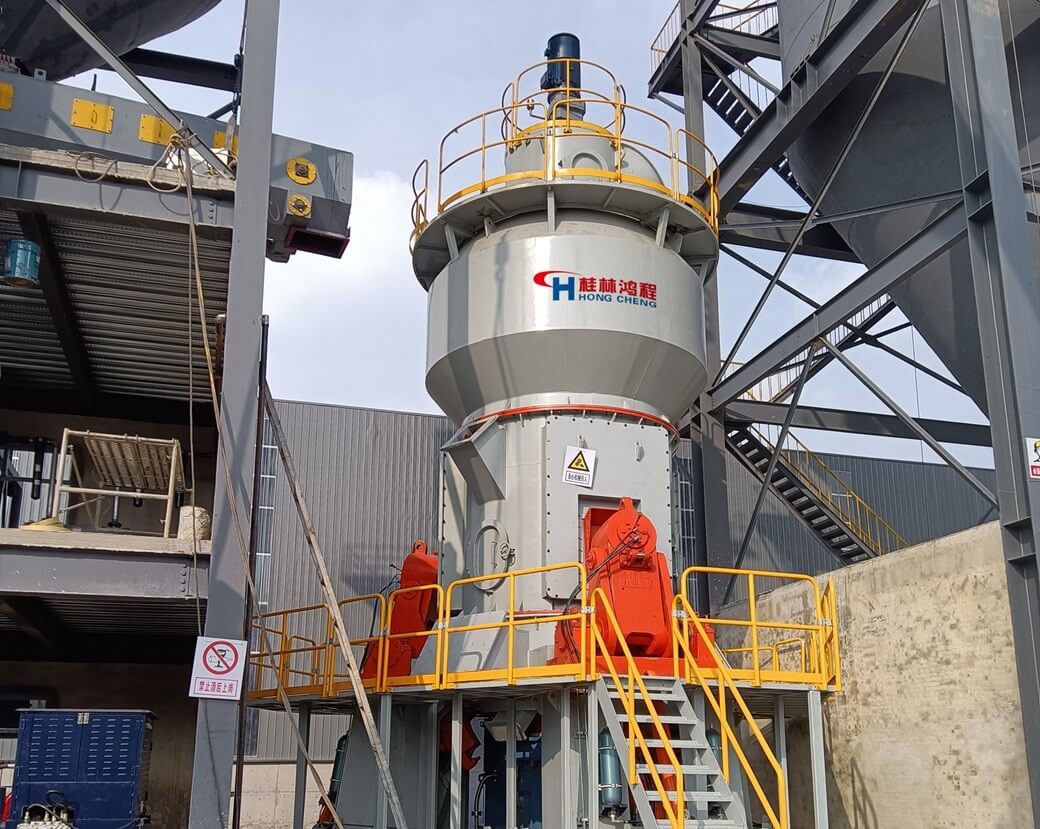 Carbonized Slag Vertical Grinding Mill, welcome to leave a message or consult [email protected]
The HLM vertical mill produced by Guilin Hongcheng is an advanced, energy-efficient and energy-saving grinding equipment that integrates crushing, drying, grinding, grading and transportation. This product solves the problems of low output, high energy consumption and high maintenance costs of ordinary industrial grinding mills. It can be widely used in electric power, metallurgy, solid waste treatment, cement, chemical industry, non-metallic minerals and other industries. It is mainly used for cement raw materials, Grinding of clinker, desulfurized limestone powder, slag, steel slag, manganese ore, coal mine, phosphate rock and other materials. The materials to be ground range from high humidity (moisture content 20-30%) to dry materials (moisture content<1%), from extremely difficult to grinding materials to easy-to-grind materials, the product fineness ranges from coarse to fine, and the grinding types are rich. It can fully meet the grinding requirements of carbonized slag, and compared with ball mills, the energy consumption is 40-50% lower, the single machine production capacity is large, and low valley electricity can be utilized, making it an ideal carbonized slag grinding equipment. If you have carbonized slag grinding needs, please leave us a message to learn more about the equipment details.