Can ultra-fine mills be used for bauxite ore powder processing? The answer is yes, if the fineness of the bauxite grinding range is 325-2500 mesh, Hongcheng mill manufacturer strongly recommends the ultra-fine mill, which can achieve high yield and high efficiency. Guilin Hongcheng, a manufacturer of ultra-fine grinding machines, provides a wide range of grinding machine equipment to meet the production of bauxite, marble, limestone, barite, gypsum and other mineral powders, helping grinding projects to bring considerable profits and value.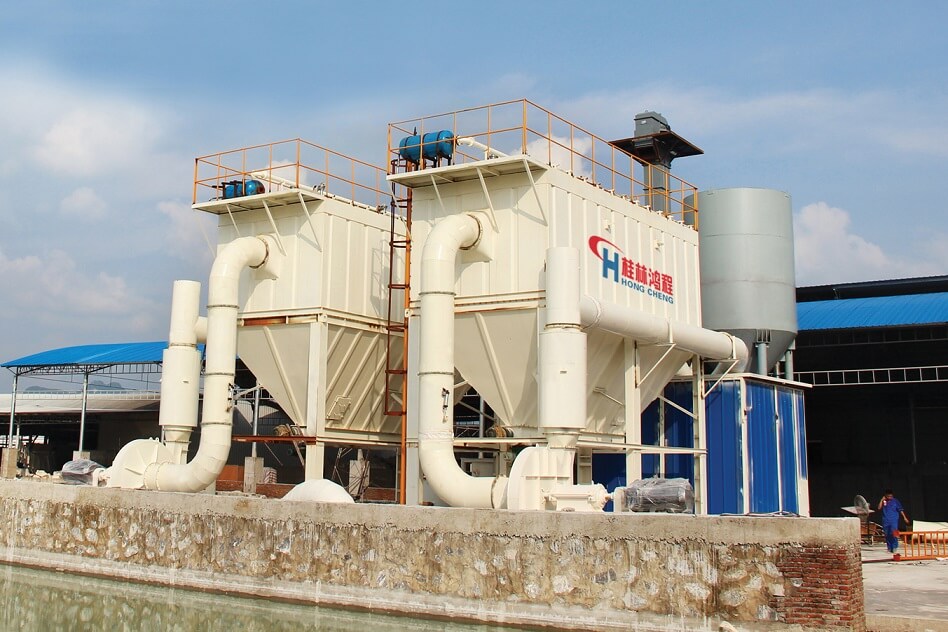 Bauxite HCH Ultrafine Ring Roller Mill, welcome to leave a message or consult [email protected]
Where is there a case study of bauxite ore mill production line? Guilin Hongcheng has undertaken many excellent mill production line case sites in this field. Many new and old customers and friends visited the bauxite ore mill production line to further inspect the operation status and powder quality of the equipment. At the same time, they also visited Guilin Hongcheng Mill Manufacturing Base to understand the strength of the manufacturer and the after-sales service provided. According to customer feedback, the bauxite grinding production line designed by Hongcheng has stable performance, reliable operation, high output and low consumption, clean and noise reduction, Guilin Hongcheng has also become a grinding equipment supplier that helps bauxite projects create greater value.
Guilin Hongcheng ultrafine powder processing equipment: HCH series ultrafine ring roller mill
[Grinding material particles]: ≤10mm

[Finished Particle Size]: 5-45μm

[Scope of application]: Widely used in production and living fields such as electric power, metallurgy, cement, chemical industry, building materials, paint, papermaking, rubber, medicine, food, etc.

[Applicable materials]: It has high-yield and high-efficiency grinding ability for various non-metallic mineral materials with Mohs hardness below 7 and humidity within 6%, such as talc, calcite, calcium carbonate, dolomite, potassium feldspar, bentonite , Kaolin, graphite, carbon, fluorite, brucite, etc. have good grinding effects.

[Performance advantages]: The mill is an energy-saving and consumption-reducing equipment for fine powder processing. It has a small footprint, strong complete set, wide application, simple operation, convenient maintenance, stable performance, and high cost performance. It is an economical and practical fine powder processing equipment.

HCH Ultrafine Ring Roller Mill is a professional fine grinding equipment with comprehensive mechanical pulverization performance such as rolling, grinding, impact, etc. Therefore, the whole machine has a large crushing ratio and high energy utilization rate, and the powder that can be ground is between 325-2500 mesh. its processing technology is scientific and the performance of the whole machine is stable, which has won the favor and support of customers.
The process flow of the mill mainly includes four stages of crushing, grinding, classification and powder collection, and the materials are crushed into materials smaller than 10mm by the jaw crusher. The material passes through the gap between the grinding roller and the grinding ring, and is crushed and ground by the rolling of the grinding roller. The ground powder falls to the chassis due to gravity, and is blown to the classifier above the main machine for sieving under the action of the airflow of the blower. The wind flows into the pulse dust collector, and after being collected, it is discharged through the discharge valve to become the finished product.
Grinding bauxite ore, welcome to come to the mill manufacturer Guilin Hongcheng at any time to learn about the details of ultra-fine mills, Raymond mills, vertical mills and other equipment. We will provide professional mill types and complete systems according to your project needs. Powder production line solutions to help bauxite ore projects create value, welcome to leave a message for consultation.