High alumina ore is mainly used as raw materials for refractory materials, abrasive materials, chemicals and high alumina cement. As a refractory material, bauxite has the advantages of light weight, high temperature resistance, good thermal stability, low thermal conductivity, small heat capacity and mechanical vibration resistance. It is used in steel, nonferrous metallurgy, electronics, petroleum, chemical industry, aerospace, atomic energy, Defense and other industries. High-alumina clay ore has many performance advantages, and the demand is also increasing. Bauxite manufacturers are also rising. The market competition is fierce, and it is necessary to adopt advanced production line equipment to gain a firm foothold in the market. As a manufacturer of high alumina clay grinding mill, today I would like to introduce you to the grinding fineness requirements and equipment configuration of high alumina clay.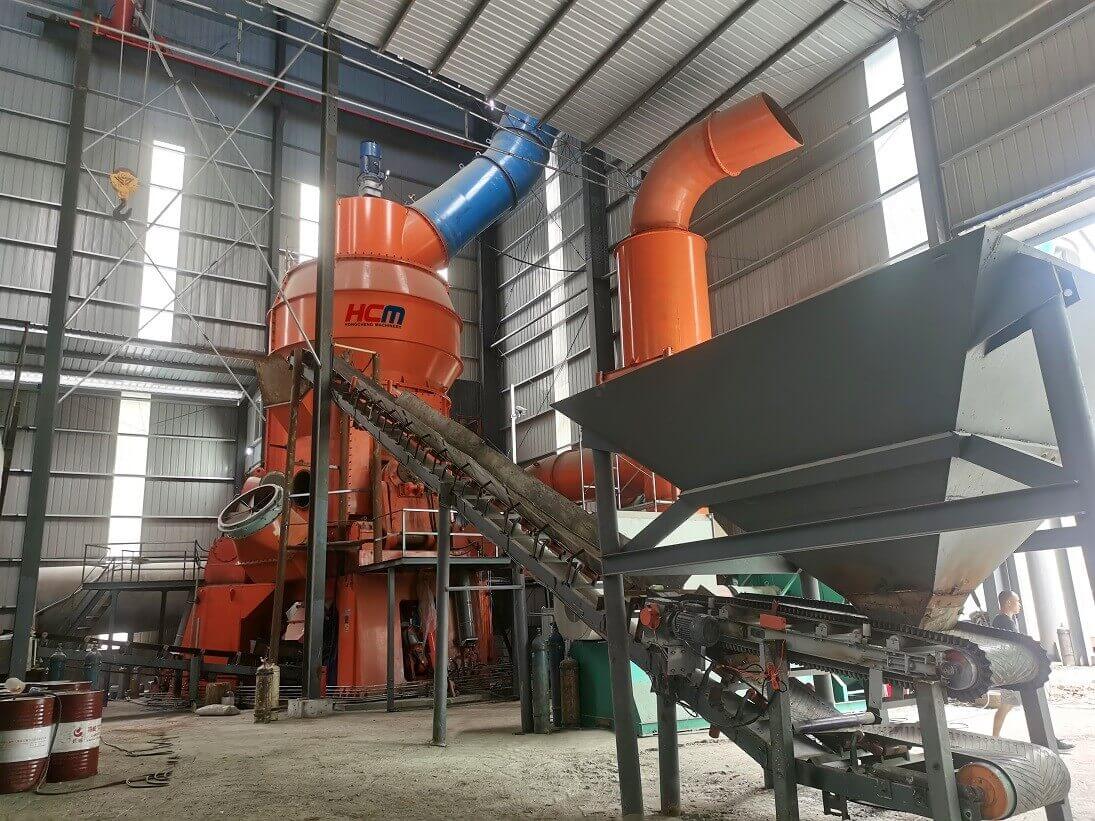 High Alumina Clay Vertical Grinding Mill HLM2600, welcome to leave a message or consult [email protected]
High alumina clay is also called refractory clay, and its main minerals are diaspore, boehmite, gibbsite and kaolinite. Because the content of AL2O3 is higher than that of ordinary refractory clay, it is called high-alumina clay. Because of its high hardness, specific gravity and high refractoriness, it is usually used to produce high-grade refractory products. With economic development and application technology innovation, refractory materials are constantly developing, and vertical grinding mill as an ideal high-alumina clay processing equipment has also attracted the attention of relevant enterprises.
The vertical mill uses the relative motion between the grinding roller and the grinding disc to crush the material on the material bed. As one of the main developments in the dry ultrafine processing technology of non-metallic ore powder, the vertical mill equipment and technology are widely used in the non-metallic mineral industry. In the refined application of products, the advantages of high efficiency, energy saving, and environmental protection have gradually emerged. The fineness of the machinable products is 80-600 mesh, which can fully meet the grinding fineness requirements of high alumina clay. The ideal high-alumina clay not only has high refractoriness, can maintain volume stability at high temperature, but also has slag resistance, resistance to rapid cooling and rapid heating, and certain mechanical strength, so it is extremely firm after calcination. Its production fineness requirement is usually 200-400 mesh.
At present, high alumina clay is mainly used in the metallurgical industry, as a raw material for the production of shaped refractory materials (bricks of various specifications) and unshaped refractory materials, accounting for about 70% of all refractory materials. With the expansion of production scale and continuous application technology Upgrading, the application field and application depth of high alumina clay in the future will inevitably have a huge space for continued development and excavation. If you have high alumina clay grinding project needs, please leave us a message for equipment details.